Aye, so, Friday and a trip to Costco. As usual the goods get loaded into cardboard boxes - apple boxes this time - and stashed in the boot. So far, so ordinary. Apart from the fine bargain that was had on the Macallan 10 year old fine oak. But that's another story.
So now we have two boxes. We also have two weans. The next bit's obvious. Yes, Ewan fills them with cushions to make them into seats for him and Ellen and the two sit in the boxes watching TV or playing Super Mariokart. Would you just look at the slack-jawed, dead-eyed expressions on those two. That's what TV does: keeps them docile and well-behaved. Love it.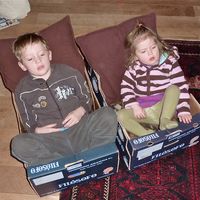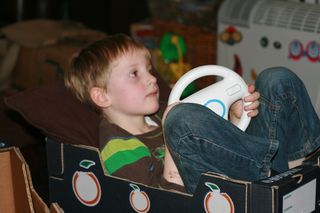 But it wasn't all sofa surfing. Today was a family outing to Castle Semple to let Mandy have a go in the new canoe before her weekend of training in a few weeks. She did good. It's a lively wee bugger. Much more tippy than the big barge that I had Ewan and Ellen in. Ordinarily, paddling in circles wouldn't be considered a 'good thing' but when you're on your own for the first time, staying upright and dry is an achievement. Paddling in circles is great. Here she is flailing her big stick around. 'Fraid, I didn't take any pictures of the weans since it would only have been the backs of their heads.