Well, that's Christmas been and gone, along with the relatives who came to eat the food, drink the drink and generally make us watch bad television. Naturally, the house was filled with new plastic although each new toy replaced one that Mandy took away. It goes without saying that the main interest was in the boxes as this sequence amply demonstrates.
Anyway, judging by the extent to which it's driving us up the wall, the top toy of 2005 has been (but might not be for much longer...) the Old MacDonald tractor. The animal noises are fine, the engine is fine, the reversing beep is fine, even the song is fine. But help ma Boab, the bloody clicky wheels ...
Doesn't his new Noddy dressing gown make him look like a combination of something out of Jeeves and Wooster and a young Hugh Heffner?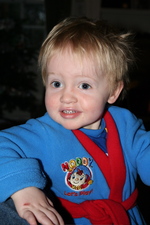 Still, 2006 is nearly here so in the spirit of New Year, here's hoping all the street parties are blown away again and we all have a proper Hogmanay and a happy and prosperous new year.