While I wait for various people to come back to me I thought I'd add to my collection of less than helpful bits of cycling infrastructure. This morning, since it had stopped raining, I took Ellen to nursery in her trailer. If I go out of Limekilns on the road I have to cross the A985 because there's no path on the same side as the village. It's not a nice road at the best of times and certainly not around rush hours. It doesn't generate headlines like this for no reason.
I can then either go through Pattiesmuir and Rosyth or cross back to the path on the south side of the road to carry on to Rosyth. All this crossing could be avoided if there was a continuous path on the south side of the A985 from Limekilns to Rosyth.
This morning, suspecting the Pattiesmuir route would be a swamp after yesterday's rain, I decided to head along the puddly and muddy route (actually part of the National Cycle Network's route 76) along the Forth and up Windylaw Edge (or Cardiac Hill as it is locally known).
We'll put the surface of the path to one side for now. The least favourite aspects of this route are the narrow, and when you're hauling a trailer, barely negotiable, entrances to the path. At the Limekilns end we have this:
Maybe the gate is needed to prevent people driving down there - I'm sure someone would try it - but the footpath at the edge could at least be widened around that post to make it accessible not just to bikes but pushchairs and, who knows, maybe even wheelchairs.
At the other end, as the path reconnects with the A985, an understandable attempt has been made to make it diffcult for someone to come careering down the path and straight out onto the A985. Understandable but not very accessible.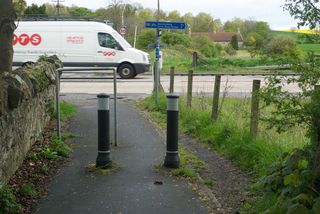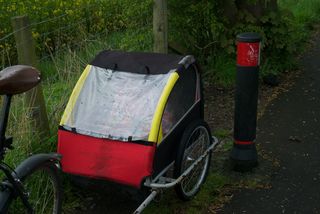 You can see how everyone goes off the path to the right of the bollards. It's the only option for the trailer, which just squeaks through the gap.